(a) Take-off and climb on centre fuselage tank to cruising altitude.
(b) When contents of centre tank are nearly exhausted, select FRONT TANK or REAR TANK on fuselage tank selector.
(c) Select TRANSFER on long-range tank trans­fer selector.
(d) Turn off long-range transfer selector when centre tank is nearly full.
(e) Repeat procedure to empty belly tank into centre tank.
boss of speed at cruising is 6 mph with belly tank installed.
Subtract 5 mph from all indicated cruising speeds.
airspeed when flaps in DOWN position. 2.11.3 WEAK MIXTURE OPERATION Refer to Section V.
(a) Reduce airspeed and power as required.
(b) Fuel selector to fullest tank.
(c) Instruments in correct ranges.
(a) Reduce airspeed to 90 mph IAS.
(b) Propeller lever to INCREASE rpm.
(c) Mixture lever - AUTO RICH.
(d) Flaps to LANDING or as desired.
(e) Maintain a normal approach airspeed of 80 mph IAS. (Rate of descent with be approxi­mately 1000 ft. per min.).
Open throttle several times during ap­proach to clear engine and to prevent too rapid engine cooling.
When carburettor heat is used during ap­proach, select "COLD" late on the final approach. This is to insure that full power will be available in case of a baulked landing.
(a) Trim as required.
(b) Increase power to decrease rate of descent.
With flaps at landing, the "Power-Off" approach produces a marked nose down attitude.
(c) Pull back gently on the control column for three-point touch-down.
(d) There is no tendency to swing after touch­down except in crosswinds.
In normal stalled landing the tailwheel will touch first, when landing without flap.
(e) After touch-down hold control column fully back.
(f) Use rudder and steerable tailwheel to main­tain etraight path.
(g) Apply wheel brakes, as necessary, to con­trol landing run.
Minimum run landings may be nece­ssary under extraordinary circumstances.
Pilots familiar with the aircraft and experienced in short landing technique may per­form minimum run landings by using full flap and reducing the airspeed on the final approach to 65 - 68 mph and maintaining that speed to the point of flare-out.
The lateral component of wind velo­city at and below which it is safe to land is not more than 10 mph at 90å for landplane, ski- plane and seaplane.
At night a "Power-On" landing is re­commended so that a go-around is facilitated.
(a) Use same procedure as for landplane.
(b) Do not lower water rudders until aircraft has stopped planing.
(a) Snow does not deceptively cover uneven ground.
(b) Ice is thick enough to support the aircraft.
Blue ice is generally quite thick. White ice is nearly always thin, especially on fast flowing rivers.
(c) Use power approach for landing on un­marked snow.
(d) Do not make turns when close to snow- covered ground.
(b) Keep nose down, re-trimming if necessary, to maintain normal flap down airspeeds - 65 mph for TAKE-OFF flap, 75 to 90 mph for CLIMB or CRUISE flap settings.
(c) Retract flaps slowly when safe altitude is reached.
(d) Rfttrim as required.
(a) Flaps to CRUISE when landing run is com­pleted.
(b) Elevator trim to neutral.
(a) Set parking brakes.
(b) Carburettor heat - COLD. Ignition safety check
(a) Engine at idling speed.
(b) Switch OFF ignition switch momentarily - engine must stop firing completely.
(c) Ignition ON as soon as possible to prevent backfiring. Ignition system and power check.
(d) Control column fully back.
(e) Advance throttle lever to aerodrome baro­metric pressure.
(f) RPM should be 2100 plus or minus 20.
(g) Check magnetos by selecting " L" momen­tarily and return to "BOTH" before selecting "R" momentarily.
When running on one magneto, the drop in rpm should not exceed 100 rpm.
(a) Retard throttle lever to idling position.
(b) Engine rpm should be 450 - 550.
(c) Oil pressure and fuel pressure should re­main within operating limits.
2. 18 STOPPING THE ENGINE
(a) Allow engine to idle for a short period to assist it in gradually cooling down.
(b) Open throttle to give 1000 - 1200 RPM.
(c) Propeller lever to full DECREASE RPM.
(d) The RPM will drop off as the propeller changes pitch but should be maintained at 800 rpm with the throttle.
(e) Whencold weather start is anticipated, en­gine oil may be diluted.
(f) Mixture lever - IDLE CUT-OFF.
(g) Switch ignition OFF after propeller has stopped turning.
(h) Check wing tip tank selector OFF, if tanks are fitted.
(j) Main fuel tank selector OFF.
(k) All switches OFF except generator field switch.
If engine fails to stop proceed as follows:
(a) Check magnetos again.
(b) Close throttle to idling.
(c) Turn fuel selector OFF.
(d) Maintain 800 rpm.
(e) Wait until engine has stopped through fuel starvation.
(f) Switch ignition OFF.
(g) Throttle lever fully CLOSED.
ScctiM
EMERGENCY PROCEDURES
SECTION III EMERGENCY PROCEDURES
3.1 ENGINE FAILURE
3.1.1 ENGINE FAILURE DURING TAKE-OFF RUN
Remaining length of runway is suffi­cient for stopping safely.
(a) Apply brakes - control column fully back all the time •
(b) Mixture lever - IDLE CUT-OFF.
(c) Pump flaps fully DOWN.
(d) Ignition - OFF.
(e) Fuel selector - OFF.
(f) Battery master switch - OFF.
Space ahead is insufficient.
(a) Take steps as above.
(b) Turn the aircraft by momentarily applying differential braking in the desired direction, rudder pedals in neutral, then apply differen­tial braking in the reverse direction to counter­act ground looping tendency.
3.1.2 ENGINE FAILURE AFTER TAKE-OFF.
(a) Lower nose immediately, to maintain air­speed at 65 mph.
(b) Mixture lever - IDLE CUT-OFF.
(c) Propeller lever to DECREASE RPM posi­tion.
(d) Fuel and oil emergency shut-off - pull sharply CLOSED.
(e) Ignition - OFF.
(f) Battery master switch - OFF.
(g) Fuel selector - OFF.
(h) Warn passengers to brace feet against supports and protect their heads by placing an arm across forehead, gripping fuselage struc­ture with the same hand.
(j) KEEP STRAIGHT AHEAD AND CHANGE DIRECTION ONLY ENOUGH TO MISS OBSTA­CLES. USE RUDDER ONLY.
CAUTION
Always maintain enough airspeed to assure full control of aircraft to point of touchdown. Coarse use of ailerons» near the stall airspeed precipitates wing dropping.
CAUTION
It is better to ride an aircraft with a dead engine safely to a crash landing straight ahead, than to turn back to the field.Attempte to turn back have, in many instances, ended with an un­controlled roll or spin intothe ground.
3.1.3 ENGINE FAILURE ABOVE 800 FT. AFTER TAKE-OFF
(a) Depress nose to gliding attitude.
(b) Flaps to CRUISE.
(c) Propeller lever to full DECREASE RPM position,
(d) Maintain air speed of 95 mph LAS (glide gra­dient i8 11% rate of descent 890 ft. per minute.)
(e) Decide whether to crash land straight ahead or complete the circuit and attempt to land on the air field.

(f) Proceed as described in DEAD ENGINE LANDING.
3.1.4 ENGINE FAILURE DURING FLIGHT
If sufficient altitude is available:
Attempt to re-start the engine as follows:
(a) Lower nose and maintain airspeed at 95 mph.
(b) Check fuel selector at fullest tank.
(c) Check fuel pressure within normal range.
(d) Check that some oil pressure is indicated. Do not attempt to re-start if there is no oil pressure.
(e) Throttle - 1/3 open.
(f) Check ignition switches - BOTH.
(g) If no fuel pressure is indicated.
(h) Booster pump - ON (if installed) or:
Use wobble pump to build up fuel pressure and
prime for a maximum of 4 strokes. If still no fuel pressure do not attempt a re-start.
If re-start fails:
(a) Ignition switch - OFF.
(b) Propeller lever full DECREASE RPM posi­tion.
(c) Fuel selector - OFF.
(d) Maintain air speed of 95 mph IAS with flaps at CRUISE for maximum glide distance.
(e) Throttle lever - CLOSED.
(f) Make a dead engine landing.
3.2 DEAD ENGINE LANDING
(a) Maintain air speed of 95 mph IAS, flaps at CRUISE for maximum glide distance.
(b) Propeller lever - COARSE PITCH.
(c) Mixture lever - IDLE CUT-OFF.
(d) Throttle lever - CLOSED.

Close to ground:
(e) Ignition switch - OFF.
(f) Order occupants to brace themselves.
(g) Flaps to LANDING and maintain final approach speed of 65 - 68 mph.
(h) Touch down slightly tail first, as nearly into the wind as circumstances permit.
(j) Leave aircraft immediately it has stopped moving.
3.2.1 IN CASE THE AIRCRAFT NOSES OVER
(a) Discharge fire extinguisher as soon as turn-over movement begins.
(b) Warn passengers to wait to be released from their safety belts.
(c) Leave aircraft as soon as circumstances permit.
3.3 PROPELLER FAILURE
Failure of the constant speed unit will result in the propeller going into coarse pitch and remaining there. No attempt should be made to clear the failure by increasing en­gine power as this will overload the engine and lead to possible engine failure.
It is recommended that a landing be made at the nearest airfield, using limited power with propeller lever in COARSE PITCH position, to have the trouble rectified.
3.3.1 PROPELLER FAILURE DURING TAKE-OFF RUN
Abandon take-off as follows:
(a) Close the throttle.
(b) Mixture lever - IDLE CUT-OFF.
(c) Pump flaps fully down.
(d) Apply brakes.
(e) When speed is low and remaining space in­sufficient, turn the aircraft by differential braking.
(f) Fuel selector - OFF.
(g) Ignition switch - OFF,
(h) Master switch - OFF.
3.3.2 PROPELLER FAILURE AFTER TAKE-OFF
1. (a) If RPM too high manipulate propeller lever in attempt to bring propeller within lim­its.
(b) If no response,throttle back to keep the RPM below 2350 rpm. Leave flaps at TAKE­OFF and maintain airspeed at 65 mph mini­mum.
(c) If un sue ñåâ eful, return to field maintain­ing nose up attitude and regulate the rate of descent by gentle throttle lever manipulation. Re eume normal attitude on the approach to land and make a power off landing.
2. (a) If RPM too low(propeller in full coarse pitch.)
(b) Increase air speed without losing alti­tude .
(c) If possible reduce throttle to 30 In.Hg.
(d) Raise flaps to CLIMB in stages, main­tain maximum air speed and climb at the slow­est rate to gain sufficient altitude to complete a safe circuit and landing. Jettison external loads, if necessary.
3.3.3 PROPELLER FAILURE DURING FLIGHT
Over speeding Propeller (Sticking in low pitch)
(a) Reduce throttle setting and pull the aircraft into a climbing altitude to decrease engine speed and increase the load on the propeller.
(b) Manipulate propeller lever in attempt to bring propeller within operating limitations.
(c) Maintain constant check on oil pressure. Oil supply breakdown
(a) Check oil pressure; if none is indicated pull propeller lever to COARSE PITCH.
(b) Keep RPM to a minimum and make an emergency landing with limited power on.
(c) If oil pressure is indicated after selecting COARSE PITCH it can be assumed that the propeller oil line has fractured so proceed as in 3.3.2.2.
3.4 ENGINE FIRE
3.4.1 ENGINE FIRE ON THE GROUND
When an engine fire occurs during starting, it cannot be established at once and with certainty, whether the fire is in the induc­tion system or of a more serious nature. With any type of oil or fuel fire, other than induction fire, the effect of opening the throttle wide to have the fire sucked through the engine, may increaeethe engine fire to disastrous severity.
NOTE
An induction sy stem fire may not give an indication on the fire warning light. Thus, in any case of engine fire on the ground, the engine should be stop­ped as quickly as possible, taking the following steps:
(a) Mixture lever IDLE CUT-OFF.
(b) Fuel and oil emergency shut-off - pull sharply CLOSED.
Wait until the engine speed has slowed down, then:
(c) Ignition switch - OFF.
(d) Master switch - OFF.
As soon as the engine has stopped:
(e) Discharge engine fire extinguisher.
WARNING
Make sure that the flame switch fuse is replaced, fire switch re-set and a fully charged fire extinguisher bottle is fitted before any attempt is made to re-start the engine.
If the fire does not go out:
(a) Have rear bottom cowling panel removed.
(b) Have portable fire extinguisher discharged towards the engine accessories.
(c) Release brakes.
(d) Leave aircraft.
(e) Stand by to push aircraft away from air­craft or buildings in neighbourhood if necess­ary.
NOTE
After an engine has been on fire, no attempt must be made to re-start un­til the caust has been found and rem­edied and engine damage, if any, has been repaired.
An exception, however, can be made in the case of an intake fire which has been success­fully sucked in without the fire extinguisher having been used.
3.4.2 ENGINE FIRE IN THE AIR As soon as the fire warning light comes on:
(a) Stop the engine immediately,proceeding in accordance with placard near fire warning light.
(b) Fuel and oil emergency shut-off - pull sharply CLOSED.
(c) Propeller lever - full DECREASE RPM.
(d) Throttle lever - CLOSED.
(e) Mixture lever - IDLE CUT-OFF.
(f) Reduce airspeed to 95 mph.
(g) Operate fire extinguisher.
(h) Maintain maximum glide speed of 95 mph with flaps at CRUISE.
(j) Radio state of emergency and position.
(k) Instruct other occupants of aircraft for crash landing.
(1) Make a dead engine landing.
Should the fire show no sign of abating, side­slip the aircraft to a crash landing, preferably into soft ground, sand or shallow water using wing and tail to absorb impact.
WARNING
Do not attempt to re-start the engine in flight after the fire extinguisher has been used successfully, as the fire is liable to recur on re-starting when the extinguisher is exhausted.
3.4.3 ACCIDENTAL OPERATION OF THE FIRE EXTINGUISHER
If the fire extinguisher has been accidentally discharged:
(a) Continue flight with throttle lever at least 2/3 open.
(b) After two to three minute s return to normal flight conditions. Throttle opening minimizes engine corrosion and spark plug fouling, as the methyl-bromide is rapidly disper sed, its boil­ing point being close to 40°C.
WARNING
Met hy 1-bromide has an odour of onions.If the fumes enter the aircraft all ventilators should be opened until the odour disappears.
(c) Report use of the engine fire extinguisher after landing to ensure engine check and re­plenishing of the extinguisher.
3.4.4 FUSELAGE FIRE
A fuselage fire is usually indicated by smoke which will immediately warn passen­gers and/or crew.
(a) Use fire extinguisher, in front of the pilot's seat, if the source of the fire can be located and is accessible.
If the source of the fuselage fire cannot be lo­cated, or is not accessible:
(a) Select all electrical switches EXCEPT IG­NITION - OFF.
(b) Close all windows, pull ventilators and ca­bin air extractor, if fitted.
When the fire has been extinguished, yet its source not clearly established:
(a) Leave aU switches EXCEPT IGNITION in the OFF position.
(b) Land at nearest airfield for investigation.
3.5 DITCHING
Any high-wing monoplane should be ditched only as a last resort because even in the exceptional case where the pilot succeeds in ditching his airplane under favourable con­ditions, there is the almost certain possibility that the aircraft will submerge to the cabin roof in a very short time.
If, however, the aircraft has to be ditched, proceed as follows:
(a) Keep approach speed sufficient for control down to the impact with the water.
(b) Instruct other occupants of the aircraft.
(c) Make approach into wind, at right angles to the swell.
(d) Unlock cabin and cockpit doors.
(e) Ditch on the falling side of a wave crest or swell top.
(f) Touch down tail first to prevent the nose from striking a wave crest or swell top which might cause the aircraft to nose in, or dive under.
Other occupants of the aircraft should be in­structed as follows:
(a) Unfasten collar and tie.
(b) Hold on to life preserver cushions.
(c) Be prepared for a double impact when first the tail, and then the engine strike water.
(d) Not to move until the aircraft has come to rest.
(e) Help each other through the door s as quick­ly as possible.
Section,
OPERATING LIMITS,
PERFORMANCE DATA AND FLIGHT CHARACTERISTICS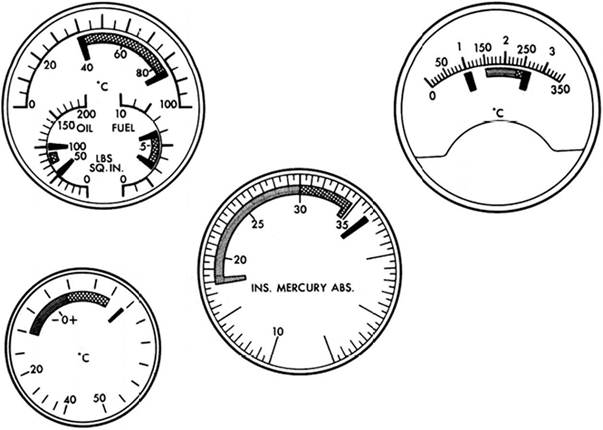 FUEL AND OIL PRESS., OIL TEMP.
SUCTION
TAKE-OPP POWER TIME LIMIT» I È IN. AT 2300 RPM- 36.5 IN. HG.
CAUTION AT AMBIENT TEMPERATURES BELOW STANDARD ALTITUDE TEMPERATURE (I6°C (69°F) AT S.L.) WITH CARBURETOR AIR AT COLD, OVER- BOOSTING AND DETONATION ARE POSSIBLE AT MAP SETTINGS BE­LOW THE NORMAL MAXIMUM PER­MISSIBLE. THEREFORE, TAKE-OFF MAP MUST BE REDUCED BY 2% PER lleC (20°F) BELOW STANDARD, IF ENGINE LIFE IS TO BE PRE­SERVED.
MAX. CONTINUOUS POWER 2200 RPM.-33.5 IN. HG. FULL RICH
AIRSPEED
TACHOMETER
POWER LIMITS BASED ON FUa GRADE 80/87
YELLOW—CAUTION DANGER MAY EXIST UNDER CERTAIN CONDITIONS.
RED-DANCER WARNING. MINIMUM AND/OR MAXIMUM LIMITATIONS. GREEN REGION FOR CONTINUOUS OPERATION. REQUIRING "RICH" MIXTURE
BLUE "LEAN" OPERATION IS PERMITTED.
BLANK SPACE REGION THAT SHOULD BE AVOIDED OR IN WHICH OPERATION IS LIMITED.
FIG 4-1 INSTRUMENT LIMIT MARKINGS
Reviied 31 Jan 1961
SECTION IV
OPERATING LIMITS, PERFORMANCE DATA AND FLIGHT CHARACTERISTICS
4. 1 GENERAL REMARKS
The aircraft must be operated acc­ording to the following limitations and instruc­tions .
Instrument readings, illustrating the operating limitations, are shown on Figure 4-1. The instrument markings shown should be given close attention since they contain op­erational limits information which is not nec­essarily repeated in the following text.
4.1.1 The aircraft has been classified in the normal Category of  CAR Airworthiness standards in accordance with the Type Appro­val.
ALLAEROBATIC MANOEUVRES,INCLUDING SPINS ARE PROHIBITED.
Stalls are permitted for demonstration pur­poses only.
4.2 ENGINE LIMITATIONS
Refer to: Instrument Markings (Figure 4-1).
CAUTION
If engine over-speeding occurs, land at nearest airfield and have engine and propeller inspected before further flight. If the engine has exceeded 2,750 rpm for more than 30 seconds, an engine change is indicated.
4.3 PROPELLER LIMITATIONS
Provided that the engine is operated within engine limitations,the propeller will be within its safe limits.Excessive run-up on the ground ie to be avoided.
4.4 FUEL GRADES AND RESIDUAL FUEL QUANTITIES
Recommended fuel: Aviation Fuel Grade 80/87. Alternate fuel grades with a higher lead content are permissible only when 80/87 fuel is not available and if the following precautionary measure is observed.
CAUTION
When highly leaded fuel grades are used, operate engine at slightly higher cruise power settings and apply rated power for one minute after approxi­mately each hour of cruising and PRIOR to landing approach.
Oil Specification: 100
( 80 for extreme cold) (120 for extreme hot weather)
Residual Fuel Quantities
Fuel remaining in tanks when the fuel contents gauge indicates zero, cannot be used safely in flight.
4.5 AIRSPEED LIMITS
For AIRSPEED LIMITATIONS as marked on Airspeed Indicator refer to Figure 4-1.
4.5.1 MAXIMUM PER MISS IB LE DIVING SPEED
Landplane)
Ski plane ) 180 mph IAS Seaplane )
The maximum permissible speed is the never-exceed speed of flight. A higher speed may result in structural failure, flutter or loss of contiol.
4.5.2 NORMAL OPERATING LIMIT SPEED
Landplane)
Skiplane ) 145 mph IAS Seaplane )
Normal cruising flight operations should be confined to speeds below this value.
The range of speed between normal operating limit speed and the maximum per­missible diving speed should be intentionally entered only with due regard to the prevailing flight and atmospheric conditions, in particular turbulence.
4.5.3 MANOEUVRING SPEED
125 mph IAS. Manoeuvres which in­volve an approach to stall conditions, or full application of rudder or aileron control, should be confined to speeds below this value.
4.5.4 MAXIMUM SPEED FOR LOWERING FLAPS
105 mph IAS.
4.6 ACCELERATION LIMITS
Limit loadfactors are the maximum values which the airframe may safely be sub­jected to in flight.
When flying in very rough air, or if it is necessary to perform forcible manoeuvres including full application of aileron and rudder, the airspeed should not be permitted to exceed 145 mph LAS.
4.6.1 LOAD FACTORS
In tight turns, flight load factors may reach the limit loads, and may also in­crease the danger of an unintentional stall.
The variation of flaps-up stalling speed and load factors with angle of bank are given below:
---
Äàòà äîáàâëåíèÿ: 2014-12-23; ïðîñìîòðîâ: 9; Íàðóøåíèå àâòîðñêèõ ïðàâ
---